NOW HIRING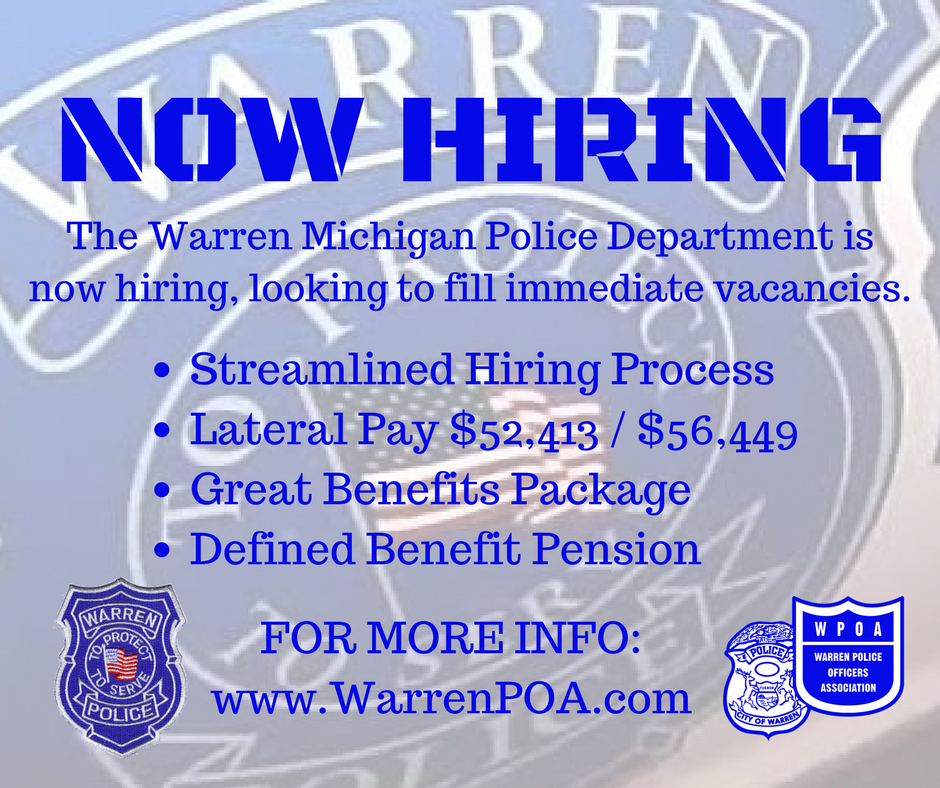 WAGES:
Starting wage of $48,379 (no experience) and top wage of $69,926 after 5 years plus a pay raises of 2% on July 1, 2018. Upon first promotion to Corporal, new hires receive a 17% wage increase. Lateral Entry Pay: $52,413 for 2-4 years prior experience; $56,449 for 5+ years of prior experience.
OVERTIME:
3 hour court time
PENSION:
Defined Benefit Plan (Pension); 5% contribution rate;
MEDICAL INSURANCE:
Blue Cross Community Blue 4 Health Insurance; Maximum out of pockets of $2,000/$4,000 with NO monthly premiums; Delta or Golden Dental; Health Care upon retirement in form of Health Savings Account; Life Insurance Policy;
SHIFTS:
Patrol works 12-hour shifts with start times of Days 08:00; Split 15:00; & Nights 20:00. Split shift premium of 4% and Night shift premium of 5%.
HOLIDAYS:
Paid 14 holidays per year plus time and a half to work a holiday; double time on holiday overtime.
VACATIONS:
80 hours of paid vacation annually increasing yearly after 10 years on
CLOTHING:
Initial compliment of uniforms and body armor is provided. $550 annual clothing allowance for uniform purchases; $600 annual reimbursement for cleaning of uniforms; New body armor provided every five (5) years.
EDUCATION BONUS:
Certificate, Associate Degree or Bachelor Degree a in Police Science and/or Police Administration pays $200, $400 or $600 annually.
LONGEVITY:
$680 longevity bonus paid each year after 5 years; then doubles every 5 years;
GUN BONUS:
Annual bonus of $950 compensation for carrying your weapon off duty.
SPECIAL JOBS:
Aside from Patrol, Police Officers have other opportunities including: Community Policing; Special Response Team; Evidence Technician; Field Training Officer; Jail; Liquor Enforcement; Motor Traffic; School Resource Officer; Special Operations Surveillance; Undercover Drug Enforcement; and DEA.
TO APPLY:
Applications will be available at Warren City Hall, One City Square, Suite 410, Warren, MI 48093 very soon. You can add your email to receive updates on the hiring process.
The hiring process will be streamlined and no written exam will be given. Once enough applications are received, applicants will be given an oral board exam. If you pass, applicants will proceed through a background process.
We are looking to fill 10+ vacancies.
Check back soon for more details.
Page Last Updated: Apr 21, 2018 (08:46:26)