NOW HIRING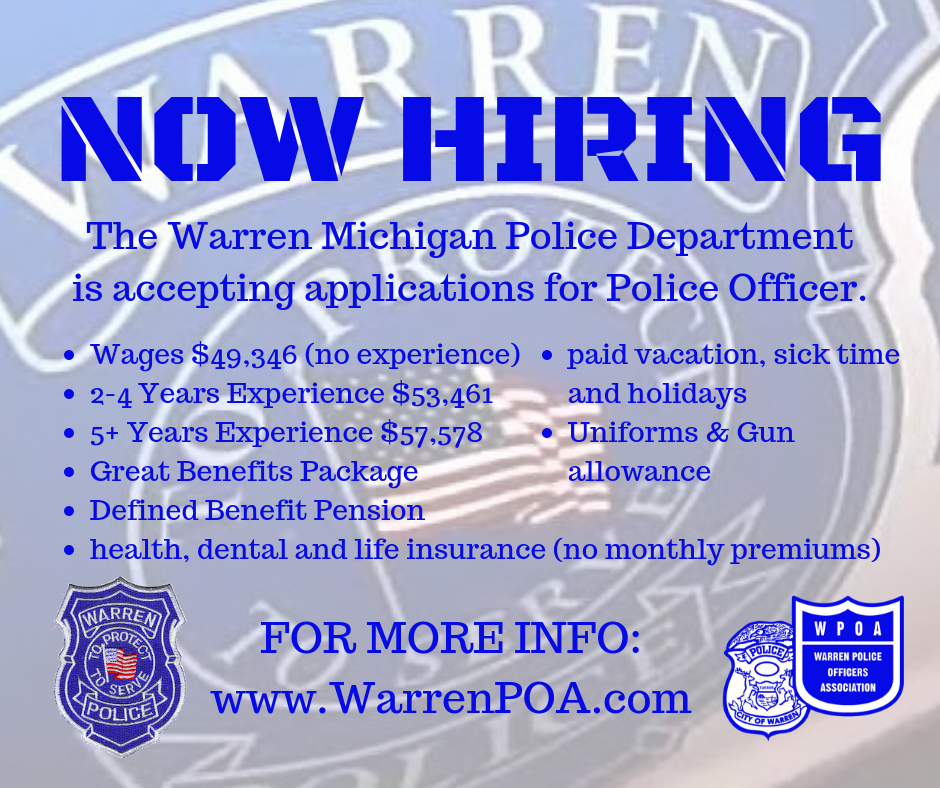 WAGES:
Starting wage of $49,346 (no experience) and top wage of $69,926 after 5 years. Upon first promotion to Corporal, new hires receive a 17% wage increase. Lateral Entry Pay: $53,461 for 2-4 years prior experience; $57,578 for 5+ years of prior experience.
OVERTIME:
3 hour court time
PENSION:
Defined Benefit Plan (Pension); 5% contribution rate;
MEDICAL INSURANCE:
Blue Cross Community Blue 4 Health Insurance; Maximum out of pockets of $2,000/$4,000 with NO monthly premiums; Delta or Golden Dental; Health Care upon retirement in form of Health Savings Account; Life Insurance Policy;
SHIFTS:
Patrol works 12-hour shifts with start times of Days 08:00; Split 15:00; & Nights 20:00. Split shift premium of 4% and Night shift premium of 5%.
HOLIDAYS:
Paid 14 holidays per year plus time and a half to work a holiday; double time on holiday overtime.
VACATIONS:
80 hours of paid vacation annually increasing yearly after 10 years on
CLOTHING:
Initial compliment of uniforms and body armor is provided. $550 annual clothing allowance for uniform purchases; $600 annual reimbursement for cleaning of uniforms; New body armor provided every five (5) years.
EDUCATION BONUS:
Certificate, Associate Degree or Bachelor Degree a in Police Science and/or Police Administration pays $200, $400 or $600 annually.
LONGEVITY:
$680 longevity bonus paid each year after 5 years; then doubles every 5 years;
GUN BONUS:
Annual bonus of $950 compensation for carrying your weapon off duty.
SPECIAL JOBS:
Aside from Patrol, Police Officers have other opportunities including: Community Policing; Special Response Team; Evidence Technician; Field Training Officer; Jail; Liquor Enforcement; Motor Traffic; School Resource Officer; Special Operations Surveillance; Undercover Drug Enforcement; and DEA.
TO APPLY:
Visit www.cityofwarren.org after Sunday, November 18th for details.
Page Last Updated: Apr 17, 2019 (11:20:09)